American Oak Timber Staircase from S&A Stairs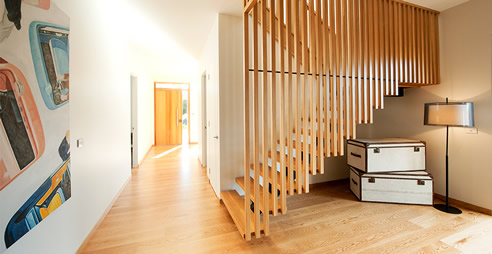 This unique American Oak timber staircase and feature screen highlights the precision carpentry and design that S&A Stairs prides themselves in.
The first flight consists of 42mm treads sitting on top of a 150x100mm steel centre carriage, taking you to the half space landing. The second flight is a closed stair with closed strings and butted treads & risers.
The handrail used is 70x45mm HR07 which mitres at all changes of pitch and direction and drops down to the landing.
The feature of this stair is the 42x42mm TB07 timber balustrade and feature screen. The screen to the first flight is fixed flush to treads and lines up exactly with the first floor balusters directly above, while the balusters on the second flight have also been positioned to line up precisely with the screen. A 16mm black steel spreader bar separates the screen balusters to ensure they remain aligned and evenly spaced.
Credit / RZ Owens Constructions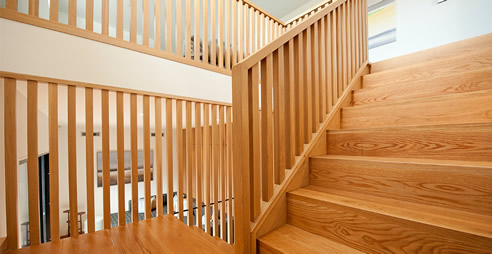 03 9532 0224
Melbourne: 31-41 Woodlands Drive, Braeside, VIC, 3195
Queensland: 13 Enterprise Street, Molendinar, QLD, 4214