Laser Engraving your smartphones and laptops from Architectural Signs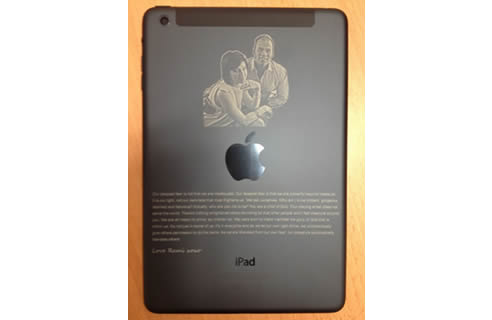 Electronics engraving is one of the growth industries across a variety of products. Everything from smartphones to laptops are being customized by lasers.
Whether for security reasons or just to create a statement with your accessories, the demand for customizing electronics is increasing every day.
There is nothing better than making your tablet, phone or other item a true one-of-a-kind item by customizing it with your own design. Whether it is a photo from vacation, your company's logo or just a design that shows off your style. Text, images and logos can be applied quickly and easily to electronic products or mobile phone covers. Personalized, high quality laser engravings not only upgrade the product itself, they also protect it from being mistaken for a similar item. Thanks to permanent markings, electronic devices can be easily identified if lost or stolen. You can engrave customized, one-of-a-kind images that really stand out. The laser systems also work with wood, acrylic, plastics, anodized aluminum and many other materials (*Internet Source).
Mark devices for security and tracking.
Companies and universities are looking for ways to secure their employee and student laptops by marking each device with an ID number and logo. This service is also suitable for many types of organizations.