Natural Swimming Pool Sanitation with Waterco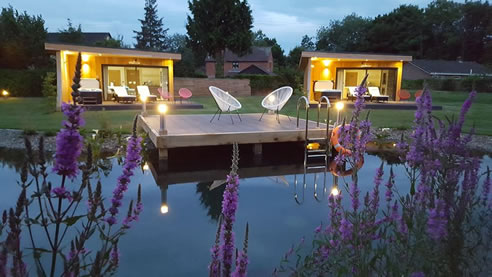 WATERCO'S SUPERIOR SANITATION SOLUTIONS INTEGRAL FOR NATURAL SWIMMING POOL AT LEADING UK COUNTRY INN
UNIQUE SELLING POINT LEADS TO POSITIVE TRAVEL REVIEWS ON TRIPADVISOR
SUPERIOR MECHANICAL AND BIOLOGICAL PRODUCTS MAINTAIN PRISTINE POOL WATER
NATURAL OUTDOOR POOL SEAMLESSLY INTEGRATES WITH PICTURESQUE SURROUNDINGS
Setting: A chance meeting at a country inn
Surrounded by the rolling Shropshire Hills - the site of well-known landmarks including Long Mynd, Wenlock Edge, The Wrekin and the Clee - the Baron at Bucknell near Ludlow in England is a traditional free house country inn considered one of the region's finest. Located roughly 10 minutes away from the small medieval Welsh town of Knighton, the popular pub and retreat is known for its traditional home cooked British cuisine, warm and welcoming atmosphere, and friendly attentive staff.
When Michael Caffyn-Parsons from Inspired By Water happened to stay at the Baron at Bucknell, he struck up a casual conversation with co-owner Phil Wright.
"He asked me what we did and I ended showing him our brochures and website on swimming ponds, something he had not previously heard of," Michael recalls. "As it turns out he was considering a swimming pool as he had permission to build some luxury garden rooms."