Modern Australian Interior Art for the West Hotel by Di Emme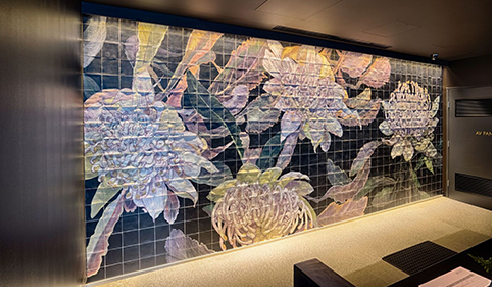 Di Emme Creative Solutions' roster of talented artists helped create modern Australian interior art for the reception area of the sophisticated West Hotel. Situated on the western side of Sydney's CBD, close to Barangaroo, the new build for West Hotel features a distinctive exterior façade and similarly striking interior elements inspired by the Australian landscape.
Di Emme worked together with some of the most notable names in the building and design industry, such as Fitzpatrick + Partners, Woods Bagot, and Point of View, in bringing modern Australian interior art for the West Hotel come to life. The distinctive modern interior design consists of a white waratah mural and wire mesh sculpture. Di Emme's artists handpainted the mural on-site, while customised tiles were used to form the canvas with clever lighting to show the brush strokes and add depth to the painting.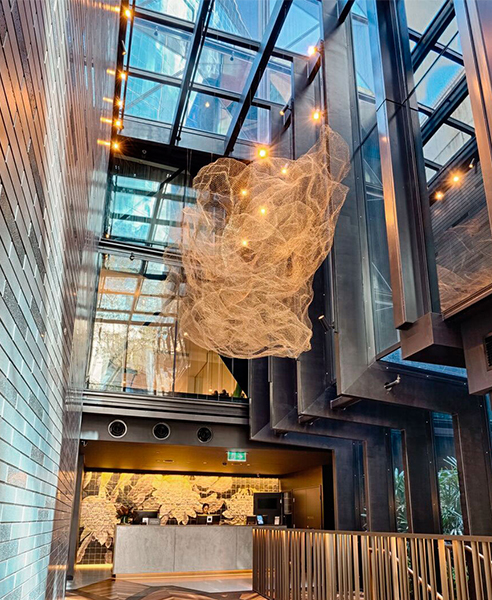 The wire mesh sculpture floats in the double-height lobby, reflecting golden light into space and onto the custom concrete reception desk. Di Emme pushed, pulled, and twisted the wire mesh into shape then sprayed the finished form a custom colour. The designers and builders met regularly at the Di Emme studio to strengthen the sculptural development.
The modern Australian interior art blends effortlessly within the deep-toned interior of the West Hotel and offers a sanctuary from the hubbub of the city life.
If you're looking for a modern Australian interior art for your next project, consult with Di Emme experts or visit www.diemme.com.au to view other Di Emme creations today.