Railway Noise Reduction Systems at AusRAIL from Projex Group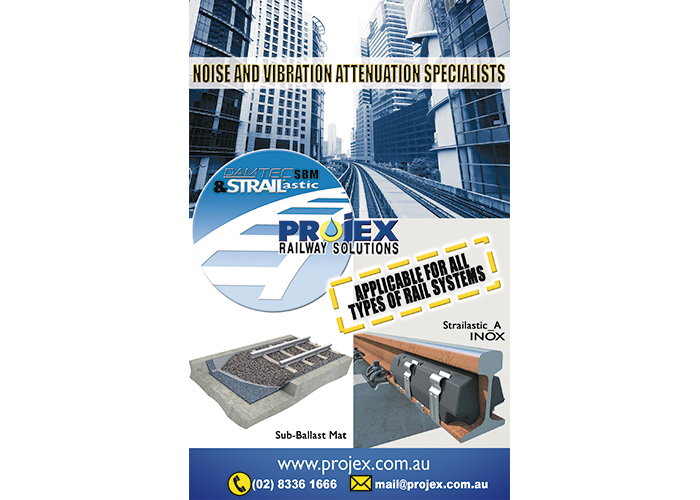 Projex Group to showcase Sub Ballast Mat and STRAILastic systems at AusRAIL PLUS 2019
Projex Group will present their time-tested Sub Ballast Matting (SBM) and the exciting STRAILastic range of noise reduction systems at the upcoming AusRAIL PLUS 2019 Conference and Exhibition in Sydney next month.
The Projex Sub Ballant Matting is an engineered solution to combat structural and airborne noise along with providing railway substrate protection.
The STRAILastic range is designed to reduce noise and vibration emitted from rails, wheels, and the track system. The STRAILastic noise reduction systems are easy to install, robust, economical, and designed for the Australian environment.
What a combination - used together, they achieve the ultimate in noise protection!
Projex Group along with STRAILastic Australia will present Sub Ballast Matt, rail dampers, mini noise reduction panels, the sound reduction wall panels, and embedded systems for light rail from the STRAILastic range at the AusRAIL PLUS 2019 exhibition.
Projex Sub Ballast Matting has been shown to reduce structure borne noise, vibration emissions, and to stabilise railway track composition.
STRAILastic rail dampers can be installed in live operational conditions. Once attached to the rails, this maintenance-free system offers noise reduction up to 7dB(A).
The STRAILastic Infill Panel is a noise reduction panel with a noise mitigating design. The panels can also be decorated to fit with the surrounding environment.
STRAILastics Mini Sound Protection Wall is a sound reducting panel that is fixed to sleepers (as close as possible to the source of the noise) and reduces wheel-to-rail emission noise.
AusRAIL PLUS 2019 features Australasia's largest rail exhibition running alongside the AusRAIL conference with over 400 exhibiting organisations.