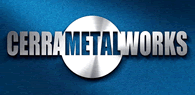 Company Profile
Cerra Metalworks Pty Ltd specialises in repetition production of metal products recognised by the building industry. Since 1981 Cerra Metalworks Pty Ltd has maintained a balanced and continuous growth. We have been involved in the development, testing and manufacture of metal building products for several years and hold a number of patents and registered designs.
SERVICES

Our plant is located at North Coburg (Victoria) and is equipped to provide the following services:

- Manufacturing of small metal componentry
- Design & development of new products
- Assembly and welding services
- Cut to size metal, primed and galvanized
- Wire and flat bar forming
- Hole punching and slotting
- 3mtr shear by 6mm thick
- Tube bending

We also resell an extensive range of building products such as dampcourse, galvanized lintels, timber connectors, expansion joint sealants, fasteners, sisalation, metal door frames and much much more.

Cerra Metal Works
03 9350 5812
2, 29 Hossack Street, North Coburg, VIC, 3058
* If you would like to update the text on your profile page, please contact Spec-Net.