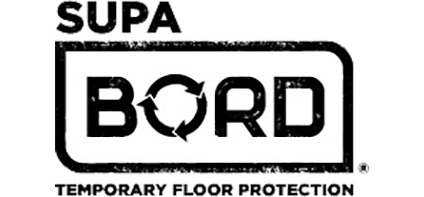 Company Profile
SupaBord is a temporary flooring protection product for commercial, residential and industrial use. Supplying Hardware and Trade stores across Australia and around the world.

The SupaBord products are non-abrasive, reusable, 100% recyclable and breathable. Being such a breathable product, the risks of sweating from prefinished and raw surfaces are eliminated.

Our Heavy-Duty product is 37.5m long, 800mm wide and covers 30m2. SupaBord offers competitive pricing methods when comparing to other products such as Ramboard that are only stocked at Bunnings

From Mitre 10, HBT and HTH stores to Countries such as New Zealand, Canada, South Korea and Hong Kong, SupaBord provides the highest level of protection domestically and worldwide.

Complementing the SupaBord Rolls are the Joint and Edge tapes that assist in joining the rolls together, providing an even higher level of protection!
SupaBord
(03) 9553 5362
32-34 Teton Court, Highett VIC 3190
* If you would like to update the text on your profile page, please contact Spec-Net.