Jumbo Exit Signs from Famco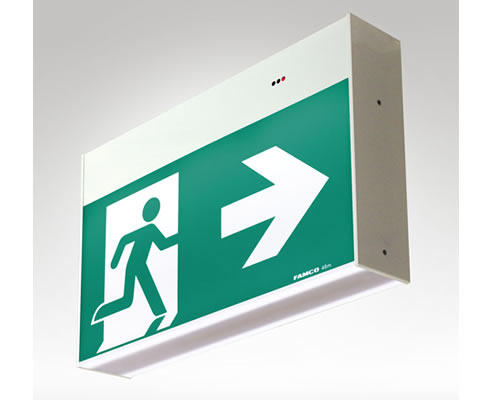 LED Ceiling or Surface Mounted Emergency Jumbo Exit Luminaire. Larger Body and Decal for greater viewing distances - up to 32/48 metres. Zinc Coated Steel Body, Finished in White Powder Coat with Acrylic Diffuser.
Viewing Distance:
F9927L/32 - 32m Maximum
F9927L/48 - 48m Maximum

Available Options:
F9927L/32/SS/* or F9927L/48/SS/* Single Sided
F9927L/32/DS/* or F9927L/48/SS/* Double Sided* denotes:
/RMS Running Man Exit Straight
/RML Running Man Exit Arrow Left
/RMR Running Man Exit Arrow Right
Also available as weatherproof jumbo exit.
For more information please click here
03 9935 7300
Unit 16,The Glassworks, 23-25 Gipps St, Collingwood, VIC, 3066