Bicycle Lockers Sydney from Cora Bike Rack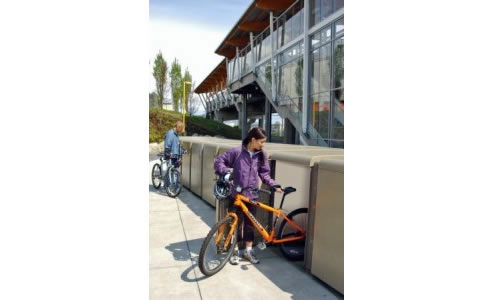 The patented CycleSafe designs store bikes and gear in a weatherproof, vandal-deterrent structure that is impenetrable to pry bars and knives, with no reported cases of bicycle theft in over 30 years of service.
With over 10 million users a year, CycleSafe bike lockers are recognised as the world's best.
CycleSafe lockers are designed for ease of installation and offer a variety of options and an unlimited number of space efficient configurations. Modular flexibility allows for future relocation, expansion or upgrade - for example, double your existing capacity by adding a double tier.
CycleSafe's proprietary compression molded, thermoset composite material will not crack, dent, warp, corrode or sustain UV degradation and is the strongest and most durable material in the bike locker market. With the additional benefit of graffiti-resistant coating and low maintenance requirements, CycleSafe lockers provide the lowest cost of ownership in the industry.
CycleSafe is available in two product ranges:
EcoPark® Series - a lower cost, freestanding system using CycleSafe's CMC composite construction for doors and tops, and 18 gauge reinforced sheet metal side panels with graffiti resistant TGIF polyester powder coating.
ProPark® Series - an interlocking modular system fully constructed with CycleSafe's CMC composite to provide the ultimate in bicycle security
For more information and professional advice, please contact anytime.