Wall Mounted Bike Storage System from Cora Bike Rack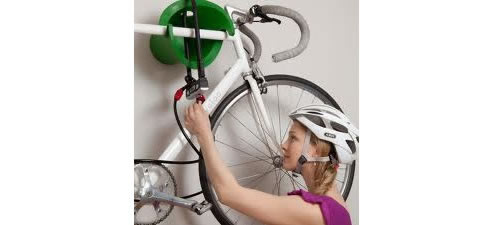 Cycloc
Cycloc's unique shape, combined with your bike's own weight, holds it instantly in place and frees up floor space in a snap. Cycloc is strongly constructed to fit a wide range of bike frames and you can even attach a normal bike lock for security.
A matching insert panel neatly conceals the fixings and slotted mounting holes allow Cycloc to rotate to suit the angle of the top tube - so you can store your bike horizontally or vertically.
Cycloc's built-in storage space is ideal for keeping lights, gloves and other cycling accessories, where you can find them. Watch the Cycloc video presentation here. Choose one of four great colours. Fixings are not included.
- Invisible fixings
- Versatile mounting
- Spacer for use with wider handlebars
- Rubber contact pads
- Ability to lock your bike
- Capacity to store accessories