Articulated Knuckle Boom Crane from Preston Hire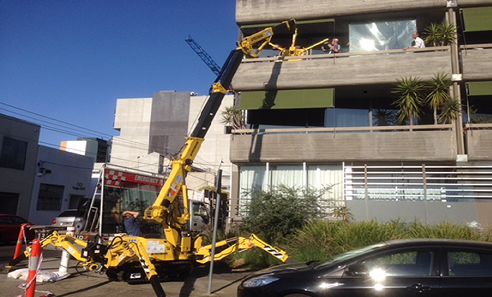 Preston Hire Unveils Articulated Knuckle Boom Crane
Preston Hire has taken delivery of their first Maeda MK1033C articulated knuckle boom crane. The Maeda MK1033C is unique in the range, being an articulated knuckle boom mini crawler crane.
The addition of this new crane strengthens Preston Hire as a leader in the mini crane market offering versatility with a broad range of models available on a nationwide basis. The Maeda MK1033 combines the compactness and maneuverability of a mini-crane with a knuckle boom crane's ability to reach over objects and work in complex spaces.
Preston Hire Group General Manager, David Serg, says this model crane is particularly good for installing glass, maintaining or renovating buildings, working in industrial facilities, housing construction, and many other kinds of tight-quarter work.
Preston Hire sent the Maeda MK1033C articulated knuckle boom crane out on its first job installing glass in the suburb of South Yarra in Melbourne. The challenge of the job was to install glass over the third story balcony edge using a glass sucker. It needed to reach into a balcony so the articulated knuckle boom feature was perfect for this job. This made a one day job into a four hour job and that's what we love about this new crane.
George from Fast Glass 24/7 said "I enjoyed working with the new Maeda on this job, it helped us out a lot". The Maeda MK1033C cuts hours off jobs and the turnaround time is fantastic.
For more information on Preston Hire's SuperDeck, SuperCranes, SuperPropping, Supersite Storage and SuperLift ranges, or for expert assistance with your hire needs on any project, large or small, visit www.prestonhire.com.au or call Preston Hire today on 1800 440 550.