Space Efficient Concertina Security Doors from Trellis Door Co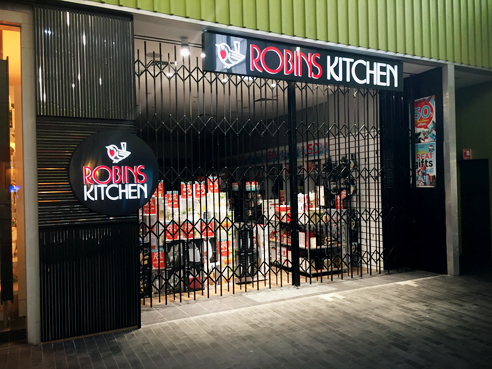 Australian Trellis Door Company (ATDC) is installing its concertina security doors across the Global Retail Brands portfolio of Robin's Kitchen and House stores across Australia.
Global Retail Brands is Australia's fastest growing and largest privately owned homeware and kitchenware retailer in Australia, operating in all states and territories.
Specified by well known Melbourne based retail and commercial design specialist ACRD, ATDC's S07-2 side-by-side stacking concertina security doors are being widely used as they are the most space efficient commercial door closures currently available on the market. Configured on a parallel set of tandem top tracks,these concertina security doors fold back to only 8 per cent of the total opening width being secured.
Complemented by a series of secure full height up/down locking mechanisms and alleviating the need for any floor tracks, thereby creating a seamless effect with a completely clear and open shopfront without any obstructions during trading hours. And where required curved or S-bend configurations with 90 degree turns over a 600mm radius can be achieved for securing curved apertures. (For more information on the S07-2 concertina security doors visit our website here.)