Portable Safety Barriers for Maritime Museum from Trellis Door Co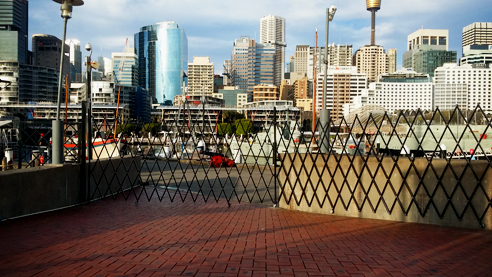 The Australian Trellis Door Company (ATDC) has recently completed an installation of its premium grade aluminium portable safety barriers at Sydney's Darling Harbour for The Australian National Maritime Museum.
The Maritime Museum tasked ATDC with replacing its existing fixed barrier systems which were in poor condition having badly corroded, faded and tarnished due to their proximity to the marine environment at Sydney Harbour. Furthermore, the Museum wanted to remove their fixed barrier systems which were previously in place since they were a permanent eyesore and were not welcoming to the public. The requirements for their new perimeter fencing were that when unlocked the barriers were to be tucked away, stored completely out of site, and that they would be able to withstand the highly corrosive surrounding marine environment.
ATDC installed its all aluminium portable safety barriers to achieve these dual objectives of the Maritime Museum. ATDC's barriers are manufactured from high tensile 20mm x 1.8mm all aluminium square box sections and have solid stainless steel rivets. These portable safety barriers have an anodised finish to 25 microns, making them suitable for installation in a highly corrosive marine environment with a high saline content. Their non-marking thermoplastic rubber tread castors make them suitable for any installation on any type of finished floor. And their professional powdercoated finish has UV inhibitors so they will not fade or tarnish in sunlight where installed on the exterior of buildings. For further information on ATDC's aluminium portable safety barriers please visit ATDC's website at www.trellisdoors.com.au.