Sublimated Timber-Look Aluminium Cladding for KFC from DECO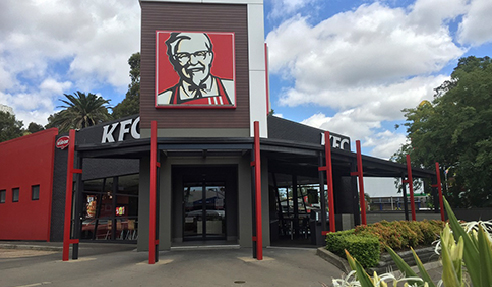 When KFC Ashfield first planned to redesign their store, they turned to DECO for an attractive, low-maintenance solution that would complement their new branding and provide a warm, friendly atmosphere for family diners.
The new-look fast food restaurant features DecoClad 'V-Groove' aluminium cladding in DecoWood's natural 'Blackbutt' timber finish. This attractive finish is installed on the outside of the parapet tower above the entry, behind KFC's iconic logo of the Colonel, and as decorative screening inserts along the drive-thru, in both places enhancing the KFC brand while adding style and the natural beauty associated with timber.
DecoClad's lightweight aluminium profiles meant KFC's chosen builder, Network Refurbishment and Construction, could install them quickly and easily. DECO is Australia's leading experts in creating a natural timber appearance without the hassle of ongoing maintenance and repairs associated with regular timber.
To learn more about the sublimated timber-look aluminium cladding, please contact DECO or visit www.decorativeimaging.com.au today.