Cassita Folding Arm Awning in Wollongong from Blinds by Peter Meyer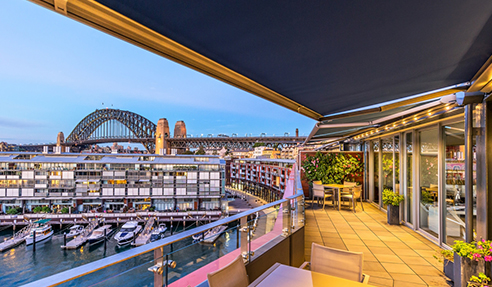 The Cassita Folding Arm Awning is named as one of the most exciting and efficient awning trends for both commercial and residential homes in Wollongong. For more than three decades, Blinds by Peter Meyer Meyer has been consistently receiving positive feedback for their outstanding range of blinds and awnings, which are produced and delivered across the seaside city in the highest quality.
Wollongong is the tenth largest city in Australia and the third-largest city in New South Wales, located between the Illawarra Escarpment and the Pacific Ocean. An ideal sunny coastal climate is observed in the seaside city, with a winter temperature averaging 17 degrees and summer of 27 degrees.
To allow for the best coastal living and relaxation for Wollongong residents and tourists, Blinds by Peter Meyer highly recommends the Cassita II Full Cassette Folding Arm Awning. This best-selling Weinor product has a slim and minimalist design that perfectly blends with the modern houses in the city. It also accounts for an ideal heat protection system that beats the oceanic climate.
The compact cassette awning Cassita II is manufactured with a width of 5.5m and a maximum projection of 3m, which perfectly suits small to medium-sized patios. Made with the Teflon fabric coating and world-class nanotechnology, the Weinor fabrics used are highly functional and brilliant even after years of operation.
The Cassita folding arm awning is equipped with a 12cm flat oval cassette that protects the fabric and frame from gusty wind and rain. Additionally, its cutting-edge LongLife arm is built for low noise and high tension force, resisting more than 100,000 cycles or 20-year operation.
Blinds by Peter Meyer also offers the Cassita II with LED lighting, boasting 30,000 hours of lighting with low energy consumption. Its natural lighting adds class and elegance to patios; the special glass lenses provide an ambient warmth from the special glass lenses.
For more information about the Cassita Folding Arm Awning in Wollongong, contact Blinds by Peter Meyer or visit www.petermeyerblinds.com.au.