Full Cassette Folding Arm Awnings in Brisbane from Blinds by Peter Meyer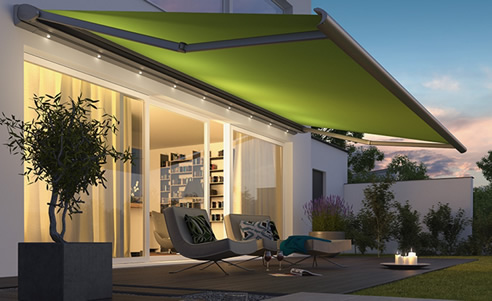 Blinds by Peter Meyer are top providers of full cassette folding arm awnings in Brisbane. Proudly Australian, the New South Wales-based company has carefully curated an extensive catalogue, featuring innovative solutions by Weinor - world-leading suppliers of innovative sliding systems from Germany. Blinds by Peter Meyer is the exclusive supplier for Weinor on the Australian and New Zealand markets, offering homeowners and design professionals alike with world-class products.
Peter's Picks: Full Cassette Folding Arm Awnings in Brisbane
Blinds by Peter Meyer proudly offers the stunning Cassita II for full cassette folding arm awnings in Brisbane. The best-selling Weinor product makes for the ideal solution to beating the subtropical climate of the capital of Queensland. Basking in 2800 hours of sunshine in a year, Brisbane provides the backdrop for an outgoing lifestyle for locals and tourists alike. Cassita II provides excellent sun and heat protection during hot days spent at home, all wrapped up in sleek, effortless aesthetics.
Cassita II boasts an ultra slim profile, perfectly enhancing and complementing both classic and modern styles. Beneath the minimal and purist design lies optimum functionality features, such as aluminium end caps for a robust and long-lasting setup that holds it all together. The 12cm flat oval cassette protects the fabric and frame from strong gusts of wind. Cassita II is also equipped with the cutting-edge LongLife arm, precision designed for low noise and high tension force. The LongLife arm design is tested to more than 100,000 cycles, allowing for a 20 year life expectancy.