Extendable Safety Gates for Children's Hospital from Trellis Door Co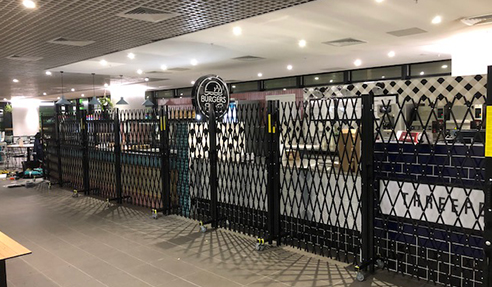 The Australian Trellis Door Company (ATDC) has recently completed an installation of multiple sets of its extendable safety gates at Perth Children's Hospital as well as at Sydney's Prince of Wales Hospital.
At Perth Children's, ATDC's extendable safety gates were installed across numerous eateries and fast food restaurants in the Hospital's Food Court area both as a health and safety requirement and also as a loss prevention solution. The application was ideal for ATDC's gates since the kiosk-style restaurants and eateries have no walls and no ceilings - they were completely devoid of any support structure of any nature at all.
ATDC's extendable safety gates require no support structure since they are portable, mobile and trackless operating on a series of heavy duty bottom thermoplastic castors and they have the ability to lock into the finished floor. By providing this cost effective lock up solution they prevent the public from gaining access to the food on sale which is being stored on site overnight. This naturally then fulfils both the health and safety and loss prevention challenges faced in the hospital's food court.
And at Sydney's Prince of Wales the same type of extendable safety gates are now installed at numerous retail tenancies and medical speciality practices primarily to provide an effective lock up solution in cases where there is an absence of any support structure to support any alternate type of overhead door system or in cases where the support structure is simply inadequate.
ATDC's gates are Worksafe certified under current OH&S legislation and the company has a fully audited and documented WH&S Risk Assessment certification. The gates have also been tested for safety under the Temporary Fencing provisions of the Australian Standards 4687-2007.
ATDC's extendable safety gates are now sold in Sydney, Melbourne, Brisbane, Adelaide, Perth, Canberra as well as in all regional towns across the country. By their very nature, the product is also able to be shipped both nationally and internationally as an easy to install DIY system and as such the product is now successfully exported to many countries in the Asia Pacific, South East Asia, The Pacific Islands and the UAE.
For further information on ATDC's full range of extendable safety gates please contact ATDC or visit their website at www.trellisdoors.com.au.