Bike Parking and Storage Sydney from Cora Bike Rack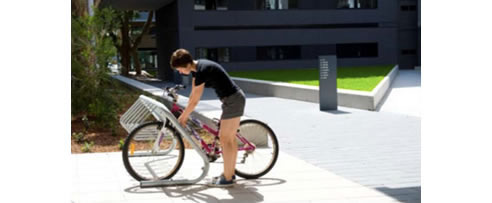 When you are selecting bicycle parking and storage products, it is important to realise the different features required for commercial use vs. home use.
Commercial Use
Commercial use products must be vandal resistant, weather resistant and extremely durable. Commercial use products are ideal where bicycles will be parked in areas that can be accessed by others and where the security of the bike is a concern. In addition, these products should comply with AS2890.3 guidelines which require a bike rack to:
- minimise possible damage to a bike by supporting the bike frame (not wheel), and
- maximise security by allowing the bike wheel(s) and frame to be easily locked to the rack.
Commercial bike racks and lockers should also encourage use, be attractive by design, easy to use and install, and located where cyclists will most likely use them: close to a cyclist's destination, protected from weather, clearly visible for security and access, and safe from vehicular and pedestrian traffic.
What to Avoid
Unfortunately, many commercial parking facilities provided for cyclists are poorly designed and misused. Cyclists will not use products that do not secure or support their bike frame, and are often forced to lock their bikes to trees and posts, or lean their bikes against buildings and windows. This not only creates an eyesore, but can damage property and become a hazard to pedestrians. When providing a bicycle parking facility, make sure cyclists will use it by undertaking proper planning and selecting high quality, attractive products.