Bronze Electroplating from Astor Metal Finishes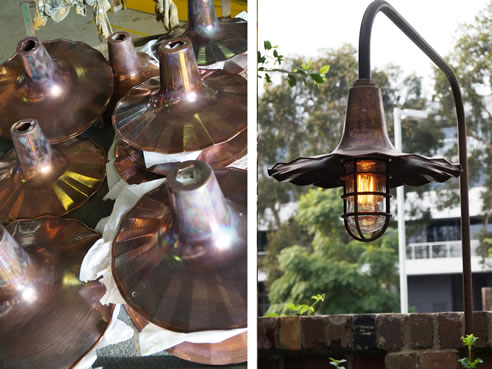 Bronze electroplating
The below case study illustrates how various metal substrates are able to be transformed with a specified ASTOR METAL FINISH. The Potting Shed, located within The Grounds of Alexandra precinct, was completed in October 2013. In this project three of Astor's finishes have been used;
"Alhena" Antique Brass + Clear Satin,
"Gemini Natural" Aged Copper + Oil &
"Crucis" Florentine Bronze
Project: The Potting Shed
Designer/ Specifier: Caroline Choker @ Acme & Co
Application: To mild steel shelving over bar, to aluminium lighting & posts, & bar foot rail
Description: The design brief for The Potting Shed called for "garden nostalgia with a Parisian feel" adjoins The Grounds of Alexandria. Similar in style, food to The Grounds, The Potting Shed is a more relaxed environment. The large outdoor area, atrium bar and private dining rooms almost feel as if they are that of a (a keen gardener) friend's who you are visiting.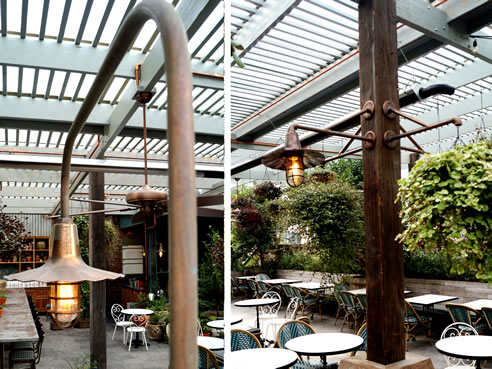 ACME & Co specified Aged Copper finish to imported aluminium lights. This is the perfect example of how electroplating can improve qualities of durability and aesthetics to a lesser metal, adding greater value to a relatively cheap mass produced item. The copper was aged and then left as an oiled unlacquered finish which will ensure that the fixtures will continue to age and act as if made from copper.
In the atrium area of the venue, a custom designed and built shelving system along with hanging plants ensure that visitors look up to see the high ceilings with skylights and original warehouse features, while housing plants, glasses, jars and ornaments.

Design Awards:
Design Awards - the grounds of alexandria
Eat Drink Design Award: high commendation
Interior Design Excellence Awards: shortlisted
Sydney Design Awards: shortlisted
Links: http://www.broadsheet.com.au/sydney/food-and-drink/article/grounds-presents-potting-shed