Ceiling Fan Advantages from Prestige Fans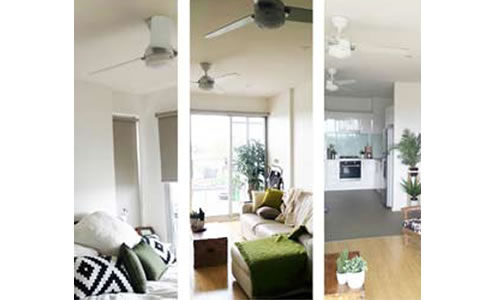 Fans don't only have their technical capabilities of cooling and have the ability to accent a space through design they can also shift the overall feeling and mood of a given space.
Ceiling Fans work on a very simple principle, being that when the fan spins, it causes an up draught of air in a room. The action of air passing over your skin causes increased evaporation of sweat, this in turn makes you feel cooler and is known to reduce the perceived temperature by up to 8°C. They are safer around the home as appose to floor or desk mounted ceiling fans and save space through their application.
Take this case study, a small 2 bedroom apartment in Melbourne's Eastern suburbs, where a family of 3 situate. The family have recently downsized from a large house and are still in the routine of entertaining and having the light and air of a larger living space.
Through the installation of ceiling fans in each room, the apartment has been transformed from what was once a stagnant and stuffy home into a fresh and inviting interior. The clients have found this beneficial in both the winter and summer months, moving the air and shifting the overall feeling of the space.