Hugger Ceiling Mounted Fan by Atlas Irene from Prestige Fans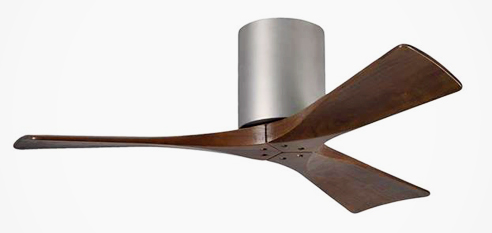 Prestige Fans have just released the Hugger range of Atlas Irene fans to complement their ever popular and growing range of fans from the Matthews Fan Company from the USA.
Cutting a figure like no other, the Irene Hugger ceiling mounted fan, is rustic, yet strikingly modern with the option of either 3 or 5 neatly joined solid walnut-stained wooden blades. A cylindrical motor housing complements its minimal profile. The Irene Hugger is streamline while still appearing warm and natural.
Finding a fan to suit a room with low ceilings can be very difficult. Purpose built Hugger (or Low Profile fans as we like to call them), are very hard to find. Whilst a lot of fans (including most in our range), can be flush mounted, this usually results in lower airflow/performance than the fan specifications state. A fan specifically built for close to ceiling installation needs to be used if you want to get the same performance as a regular ceiling fan.
To set these fans apart from the rest, they are also damp rated.
Either three or five solid wood, walnut-stained machine-cut blades in 42", 52" or 60" diameter.