Portable Barricades for Retail from Trellis Door Co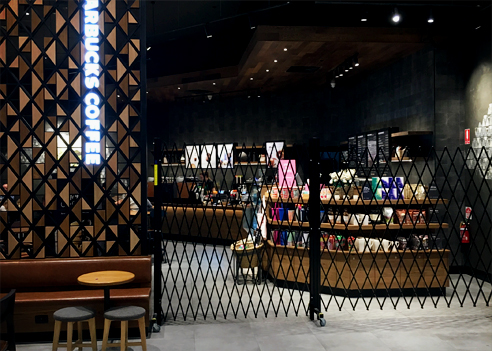 The Australian Trellis Door Company (ATDC) has recently installed its portable barricades for Starbucks at its new store Ringwood store at Eastland Shopping Centre in Melbourne (pictured). Starbucks is an American public company and is the world's leading specialty coffee roaster and retailer with over 21,000 stores in 65 countries. It has more than 27 coffee houses in Australia alone. ATDC's cutting edge portable barricades have been installed to secure Starbucks' new shopfront at Eastland.
The portable barricades installed are mobile and trackless. Accordingly they require no headroom and no overhead support structure, making them easy to operate and cost effective to install since no structural bulkheads are required. Available in standard heights of 2020mm or 2520mm, the span of these portable barricades is unlimited due to their modular design, hence there is no need for heavy and unwieldy removeable mullions. The portable barricades complement the aesthetics of the storefront with their sharp angled lines and high quality gloss powdercoated finish.