Quality Portable Barriers for Wolfgang Puck from Trellis Door Co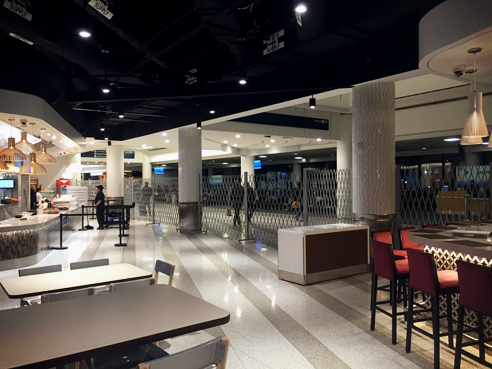 Premium grade portable barriers have been installed at Wolfgang Puck's restaurant at LAX International Airport in Los Angeles.
Wolfgang Puck is an Austrian born-American and is an internationally renowned celebrity chef, award winning restaurateur, newspaper columnist, famous television personality, part time actor, and philanthropist. His group's activities also include catering services, cookbooks and premium grade licensed products.
The portable barriers installed at Wolfgang Puck's LAX restaurant are mobile, trackless and have been configured in a multi-angled shape to accommodate the unique contours of the storefront. Being trackless and free standing, these portable barriers require no headroom at all which is normally a necessity for overhead door systems. They require no overhead support structure making them easy and economical to install - no structural bulkheads are required.