PVC Fast Action Roller Shutter Doors from DMF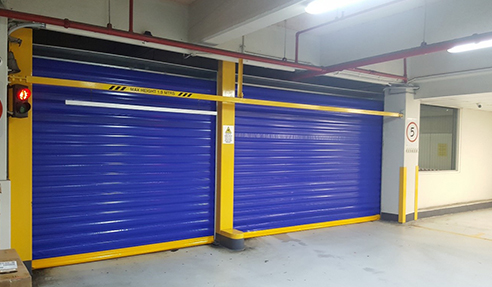 A Unique Fast Roller Shutter Design
Internal carpark applications do not always require a high-security type door, and Sydney based company, DMF International, recently completed a project for a Sydney CBD office building, supplying and installing PVC fast action roller shutter doors to their internal carpark.
What is unique with this design, is that the "hybrid" door blade is constructed using dual layered polyester reinforced PVC, with pocketed aluminium slat sections to provide strength and thus security to the door.
The high-speed door is not only fast but secure and easily integrated into existing parking or building management systems. Featuring eye-catching aesthetics, with operating speeds at an impressive 1.2m/sec. this door can also tolerate high wind pressure and will deliver 1000s of operating cycles per annum. With full safety sensor technology, and the ability to integrate with many forms of access control, the DMF high-speed door is must consider for your next project.
DMF International are Sydney based, with partners Australia wide, and can provide installation and service Australia wide.
Contact DMF or head on over www.dmf.com.au for more information today.