FSC Euro Birch Plywood Wall Linings from Keystone Linings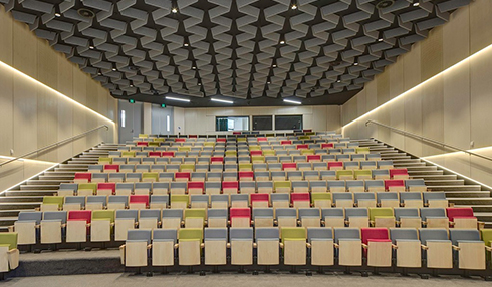 In October 2018, the $30M Taronga Institute of Science and Learning was opened by the Duke and Duchess of Sussex on their tour of Australia for the 2018 Invictus Games.
The project, which began in 2016, replaced Taronga Zoo's existing education facility which now provides a range of programs aimed at educating students from Kindergarten to PhD level.
Following the initial concept and detailed design by NBRS Architecture, the project was delivered by BKA Architects and Taylor Constructions.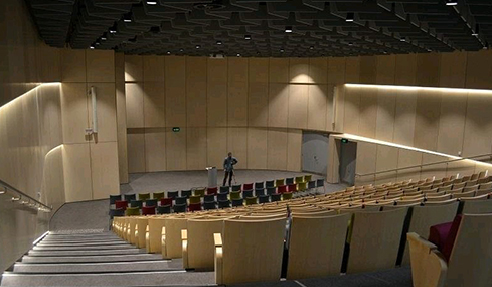 The 300-seat auditorium, along with other teaching spaces, was designed with the theme of arid, woodland and rainforest habitats with regard to some of the Zoo's most iconic animals. The Key-Ply Euro Birch Plywood wall linings inside this auditorium were selected by the architects to achieve the arid, woodland theme as well as helping achieve a 6 Green Star public building rating. Keystone Linings sourced standard (2.4m) and jumbo (3.0m) sized long grain Euro Birch plywood panels from Gen-Eco Environmental Wood Products, which were supplied perforated and solid to site. The installers, Auzoom Projects, ultimately won the commercial category award at the 2018 AWCI NSW Awards of Excellence for this project.
Key-Ply FSC®-certified Euro Birch plywood is available in sheet sizes of 3050 x 1220mm, 3050 x 1530mm, 2440 x 1220mm and thicknesses ranging between 9mm and 30mm.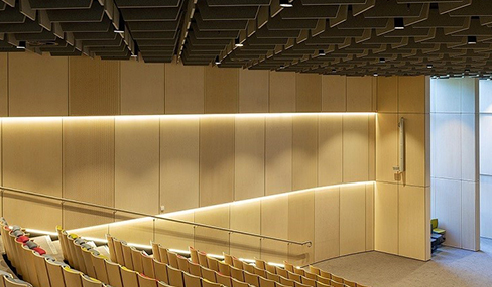 Congratulations and thank you to all involved - we are proud to have been part of such a successful project!
Project: Taronga Institute of Science and Learning Product: Solid and perforated Key-Ply FSC®-certified Euro Birch plywood Architect: BKH Architecture Builder: Taylor Australia Installer: Auzoom Projects
For more details on FSC Euro Birch Plywood Wall Linings, contact Keystone Linings or visit www.keystoneacoustics.com.au.