Stylish Vertical Roller Blind in Batemans Bay from Blinds by Peter Meyer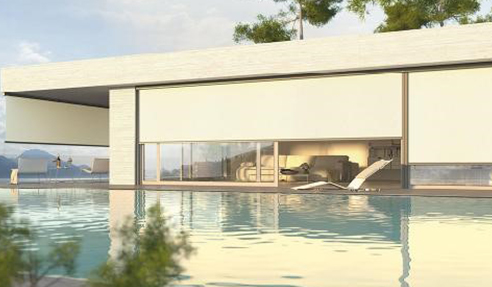 Blinds by Peter Meyer highly recommend the use of this stylish outdoor roller blind VertiTex II for a luxurious and sophisticated house in the town of Batemans Bay. Small, discreet, and versatile, VertiTex II outshines traditional shading systems or roller shutters.
Stylish Outdoor Roller Blind in Batemans Bay
Batemans Bay is located in the heart of Australia's Oyster Coast. Regarded as one of the most favourite holiday destinations in the country, the town offers many great things to see like the beautiful beaches and natural landscapes; and things to experience, from bushwalking, cycling, to water sports.
Fronting the ocean, Batemans Bay has a warm and temperate climate; the summers are warm, while winters are mild. The town has significant rainfall throughout the year.
When it comes to achieving a comfortable and relaxing interior while beating the heat in Batemans Bay, Blinds by Peter Meyer makes for the ideal solution, bringing their stylish outdoor roller blind VertiTex II to town. VertiTex II acts as first base protection against weather extremities; it blocks harmful rays and unwanted heat from entering the house during summer and retains warmth during winter.
The stylish VertiTex II comes in a small and discreet compact design, which fits small to large widths without compromising the overall design. The outdoor roller blind is available in three different techniques: Zip (wind resistant), Side Channel (all purpose), and Cable (light delicate look). VertiTex II can be extended up to 6m width, with up to a 3m drop for Zip and 4m drop for both Side Channel and Cable.
Keeping the visual impact of the house decor is also not a problem for the stylish outdoor roller blind. Weinor-made, the VertiTex II can be customised using the largest fabric collections in the Australian market. Made with Teflon fabric coating and the latest nanotechnology, the fabrics have been created to last in colour, style, and function, resisting oil, water, and dirt. The seamless fabric position is carried out through the patented Weinor Opti-Flow System®.
Learn more about VertiTex II Stylish Outdoor Roller Blind in Batemans Bay from Blinds by Peter Meyer. Visit www.petermeyerblinds.com.au today.