Why Customise Simply Roller Blinds from Blinds by Peter Meyer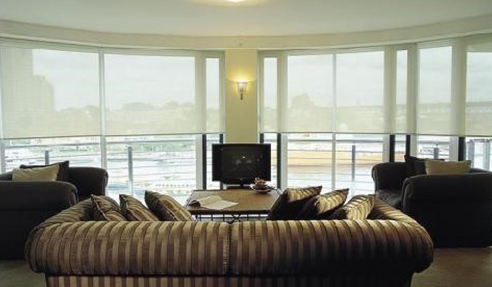 With custom Simply Roller Blinds, Blinds by Peter Meyer enables limitless interior design possibilities, and with greater impact in terms of design and function. Since 1987, Blinds by Peter Meyer has provided quality custom roller blinds throughout Australia, including major cities such as Sydney, Melbourne, and Brisbane.
If style, function, and added benefits are all considered, Blinds by Peter Meyer's custom Simply Roller Blinds are the most superior and practical choice on the market. Simply Roller Blinds come with a variety of chain options designed with ultrasonically sealed edges and a choice of base bar colour and shape; Simply Roller Blinds complement any design scheme from contemporary to classic elegance.
Looking closer, Simply Roller Blinds' Signature Collection V3.0 is built with a premium stainless steel chain with a choice of bottom rail shapers to suit project specifications. Base bar options include the standard "Small Designer Slim," round, oval, designer large, or D-shape. Signature Collection is available in bracket colours Silver anodised, white, sandstone, bone, black, and grey.
Designed with similar quality and function as Signature Collection, the Basics Collection V3.0 comes with less cost, optional stainless steel chain, with a standard oval base rail. The Basics collection also offers a subtle yet distinct line of fabrics to choose from.
Simply Roller Blinds are custom designed with a range of fabrics including sunscreens, sheers, translucents, and blockouts. All provide an optimum insulation and privacy depending on the fabric choice. Some of the fabrics are also flame retardant for safety when required in commercial spaces.
For maximum control and convenience, Blinds by Peter Meyer incorporates the use of world-class motorisation technology Somfy Motorisation. With an extensive range of controllers and switches, owners are in full control of their blinds even when away. From light control to sensors or timers, custom Simply Roller Blinds offer a seamless and smooth operation, backed by a quiet and sophisticated mechanism for longer life value.
Custom Simply Roller Blinds are built with a 5-year warranty from Blinds by Peter Meyer. The team at Blinds by Peter Meyer manufacture for retail shop fronts, Interiors Designers, Decorators, Builders and Architects Australia wide.
For further inquiries on custom Simply Roller Blinds, contact Blinds by Peter Meyer or head over www.petermeyerblinds.com.au</a> today.