Smart Pleated Blinds from Blinds by Peter Meyer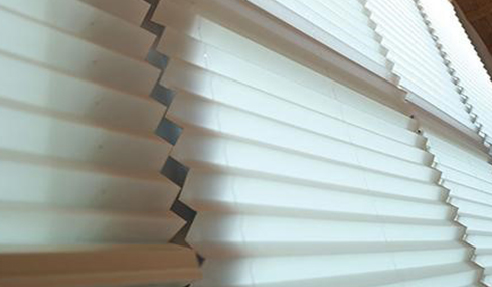 With highly functional smart pleated blinds, Blinds by Peter Meyer not only focuses on architectural trends for shape and colour but gives your home or building greater impact in terms of design and insulation. The New South Wales-based company has remained at the forefront of the supply of pleated blinds for many years, with their quality products and services earning the trust and loyalty of designers and specifiers across Australia.
Smart Pleated Blinds are available in Simply Pleat (20mm pleat) and XL50 (50mm pleat). They can be transformed into skylight blinds, shape blinds, motorised blinds, and even day/night blinds.
Simply Pleat
An ideal solution for all conceivable window layouts, the 20mm Simply Pleat is available in a wide range of shapes including round, half-round, angled, and drawn from top to bottom or vice versa. The light and insulation level is controlled by the choice of fabric such as blockout, translucent or transparent; colourful, harmonious or textured.
Simply Pleat is built with the finest quality of components and fabric, completed through the use of the latest technology. Blinds by Peter Meyer also offers an array of operating methods to ensure seamless operation plus ease of cleaning.
Simply Pleat is commonly used in places where windows are difficult to access like conservatories and rooms.
XL50 Pleated Blinds
With minimal aluminium profile head and bottom rails with matching flush design end caps, XL50 Pleated Blinds satisfy through its strong architectural lines and elegant stack height. The smart pleated blind incorporates 50mm pleats with a unique 'Constant Pleat' system that prevents premature sagging even after years of operation.
XL50 Pleated Blinds complement any decorating style with their range of fabric choices including blockout, sunscreen, translucent, and sheers. The smart pleated blind is also available in the latest European Jacquards, printed designs, pearlised, and silver backed heat reflecting fabrics.
Head on over to www.petermeyerblinds.com.au for more information on Smart Pleated Blinds.