Commercial Concertina Shutters for Specsavers from Trellis Door Co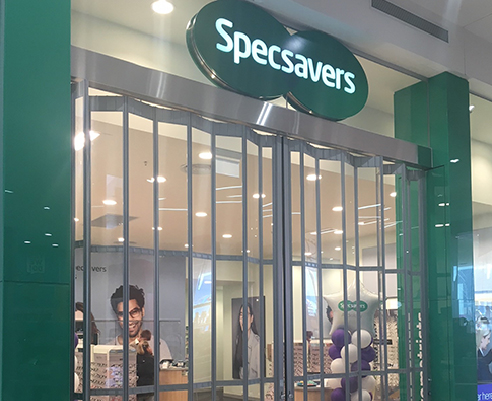 The Australian Trellis Door Company's (ATDC) concertina shutters are gaining significant market penetration in both the commercial and retail markets.
These quality, precision engineered concertina shutters are constructed from extruded aluminium panel sections with interlocking heavy duty hinges and roller bearings, which allow the curtain to easily slide and retract whilst suspended from a heavy duty aluminium top track. Available in either a wide body 300mm panel or slimline section 150mm, the shutters are user-friendly and look the goods with their smooth lines plus sleek aesthetic design. They offer the operator seamless lock-up options with intermediate up/down locking mechanisms, and without the need for any floor track with its attendant trip hazard disadvantages. With maximum height at approximately 4500mm, curtain infill options include either 3mm polycarbonate, perforated mesh,or solid aluminium depending on the application. Curved configurations are quite a regular application including special radius turns and S-bends.
This quality product has gained the attention of many architectural specifiers for a range of different commercial and retail projects across the country. And with the confidence of ATDC's 35-year successful trading record of outstanding service to back up its product range, customers are increasingly specifying these concertina shutters on prestigious projects. ATDC is for instance currently working on three different university projects across Australia; Namely Australian National University's Hancock Library in Canberra (specified by The Mill Design Co), Deakin University in Burwood, Melbourne (specified by Ian McEwan Designs), and the University of Geelong (specified by Baade Harbour Australia Architects).
ATDC's market penetration in the retail industry is no less remarkable with installations for many national and international brands including Flight Centre, Napoleon Perdis, Ferrari, Gloria Jeans Coffee, DFS Duty-Free (owned by LVMH), Specsavers, and more. The attached photograph shows a recent installation at Specsavers Moonee Ponds, Victoria which follows on other installations for this global brand. Here the project manager was Australasian Retail Projects out of Queensland. The door was powder coated in a special colour bright silver metallic finish to meet the requirements of Moonee Pounds Central Shopping Centre.
ATDC's concertina shutters are sold in Sydney, Melbourne, Brisbane, Adelaide, Perth and Canberra as well as in all regional centres across the country including Hobart, Darwin, Townsville, Sunshine Coast, Gold Coast, Geelong and Newcastle. Also exported throughout South East Asia, The Asia Pacific, The Pacific Islands and the UAE.
For further information on ATDC's full range of concertina shutters, please visit www.trellisdoors.com.au.