Preston Hire Raises Awareness for Cystic Fibrosis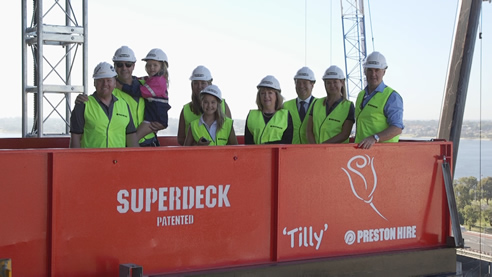 PRESTON HIRE AND BROOKFIELD MULTIPLEX
JOIN FORCES FOR CYSTIC FIBROSIS AUSTRALIA
Australian construction hire company Preston Hire recently joined forces with global contracting company Brookfield Multiplex at Capital Square construction site in Perth's CBD for Cystic Fibrosis Australia.
In a bid to help raise money and awareness Preston Hire installed one of their SuperDeck® loading platforms to the 28 level construction site with a red rose as a symbol for advocacy group Cystic Fibrosis Australia (CFA).
Named after five-year-old Tilly Martin a brave young girl who has Cystic Fibrosis, 'Tilly's Deck' will be used to load materials safely to various levels of Woodside Petroleum's new headquarters on Mounts Bay Road in Perth.
Cystic Fibrosis is a genetic disorder of the lungs that affects one in 25 Australians explains Marika Preston, Preston Hire Charity Coordinator:
"People with Cystic Fibrosis face a life-long challenge and this is a way to help build awareness of the disease as well as the great work done by Cystic Fibrosis Australia."
"After beginning a corporate relationship with Cystic Fibrosis Australia last year we really wanted to come up with an ideal way to raise awareness. Preston Hire is extremely proud to partner with Brookfield Multiplex and be able to place this special platform in such a prominent location."