Construction Sealers and Enhancers Melbourne from Dry-Treat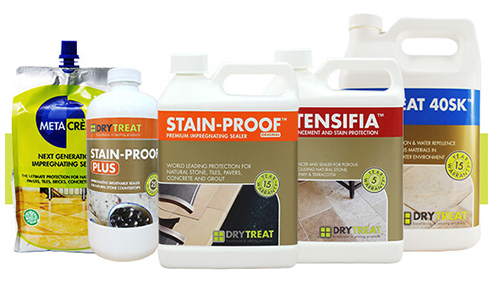 For 28 years, Dry-Treat remains one of the premium developers of high-quality construction sealers and enhancers for the building and construction industry. These unique construction sealers and enhancers protect large concrete structures, such as bridges, high rises, and factory floors in harsh conditions such as against seawater or alkaline soil.
Dry-Treat's team of engineers and chemical scientists have developed the Dry-Treat™ Penetrating Sealer Technology to provide maximum protection for a wide range of porous materials like natural stone, tiles, brick, and paving.
The molecules of the specialised construction sealers and enhancers are a hundred times smaller than traditional stone sealers and can infiltrate deeper into the pore structure - even dense natural stones like granite. Once inside the pores, the molecules bond permanently through chemical reactions to create a substantial, deep oil and water-repellent barrier.
For more product details, benefits and applications, please visit www.drytreat.com today.
STAIN-PROOF by Dry-Treat Profile
1800 786 617 (Toll Free) or (03) 9338 9851
30-32 Assembly Drive, Tullamarine, Vic, 3043