Weathertex Natural Weatherboards from Hazelwood & Hill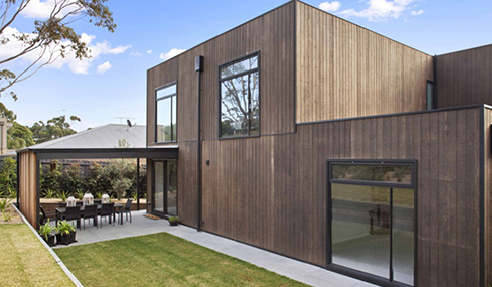 Hazelwood and Hill now offer the Weathertex Natural Range
The range is a series of unprimed weatherboards, cladding, and architectural panels. The unprimed boards provide a unique appearance, with the characteristics of raw undressed timber. The Natural surface is pressed to create a woodgrain effect with the knots and organic patterns of natural timber.
There are 3 techniques that can be used to style the Weathertex Natural range. Every project is different, so these instructions can be used as a guide. For further technical information on Weathertex, we recommend reading our installation manual and warranty. Please make sure to follow all product instructions when staining as they may vary.

Features and Benefits
Easy to install: lightweight, strong and easy to cut using standard DIY tools.
100% Natural: 97% Australian hardwood timber and 3% natural wax.
Better than zero carbon footprint.
Termite resistant: sugars and starches removed.
The only timber product with a 10-year warranty.
For further information, please visit www.hazelwoodhill.com.au.