Durable Vinyl Plank Flooring from Totally Commercial Flooring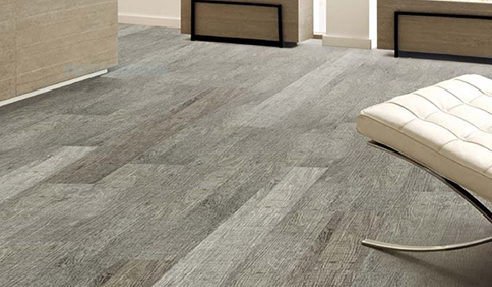 Covering all types of floor surfaces, Totally Commercial Flooring is now offering a new range of durable vinyl plank flooring for residential and commercial applications.
Expona Superplank is a Green Tag certified durable vinyl plank flooring made from 100% recyclable material. It delivers a realistic yet sustainable wood appeal without depleting the Earth's natural resources.
The durable vinyl plank flooring comes in three standard sizes:
18 @ 152mm x 1219mm = 3.34m²
15 @ 184mm x 1219mm = 3.37m²
14 @ 203mm x 1219mm = 3.46m²
In action, Expona Superplank has five layers, each with a distinct function;
Polyurethane Surface: A factory-applied treatment added to protect the outer layer of vinyl plank flooring.
Wear Layer: A transparent and extremely dense layer designed for hard-wearing protection of the underlay and creates an embossed surface effect.
Pattern Layer: Available in a range of colours and designs exclusive for Expona Superplank.
Stabilisation Layer: Improves dimensional stability by decreasing the impact of physical properties like temperature fluctuation.
Load-Bearing Layer: Designed to withstand foot traffic and deliver long service life and functionality.
If you want to learn more about Expona Superplank durable vinyl plank flooring, please visit www.tcfqld.net.au.