Open-Close Roof Systems - Celebrating 30 Years with Vergola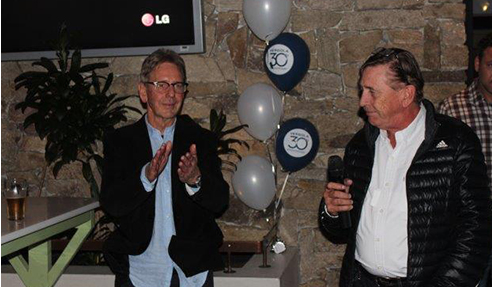 Vergola celebrates 30 years of success this year!
Vergola is the original, energy-efficient, open-close roof system adorning more than 12,000 homes in Sydney and Northern NSW, and this year they are celebrating 30 years of business success.
If you've ever visited a home with a Vergola you'll understand why they are so well regarded. An original Vergola is truly the ultimate in outdoor roofing solutions. It ticks all the boxes in terms of providing shade and airflow in summer while maximising sun and warmth in winter, as well as a rain sensor that will close the louvres during the rain for you.
If you want control of your outdoor living area, there really is no better option. Apart from the clever design and use of top quality materials, one of the things most Vergola customers love is that Vergola is an Australian owned and operated company. Vergola provides employment for around 30 staff in its Sydney based manufacturing facility.
"It's a wonderful feeling knowing that the small one-man-band business I started 30 years ago has provided employment and supported so many families over this period. I'm feeling pretty proud of this," said Stephen Rust, business founder.
A good barometer for a successful business is how long the staff stay around. Vergola's record of staff retention is impressive. They boast that 40% of their staff have been employed for more than 10 years. A testament to this is the wonderful feedback Vergola receives from its customers.
Feedback like this is not unfamiliar at Vergola;
"Thank you all for your efforts, addressing all my questions and professionalism from start to finish in the installing of the Vergola at my house. The Vergola has made a massive change in the look and the way we have been using our outside entertaining area," Anthony, Ryde.
"Dear Vergola team, I am writing to thank you for the excellent job done by Vergola on my roof, from the design to the completion. Everything was efficient and effective. All the workers turned up on time, were pleasant, and did their job well. I'd appreciate it if you'd make sure that everyone who worked on my job gets my sincere thanks," Jean, Forest Lodge.
"My husband Philip and I would like to take this opportunity to say how pleased we are with our new Vergola installation. The job went smoothly from start to finish. We would like to compliment your professionalism and also your choice of tradesman. Shannon and Mathew are two very well trained carpenters - they were fantastic not only in their work but also in their manners, their dedication to minimal disruption and their 'clean-up's' - two lovely young men who are a credit to your company. Again, many thanks," Jill and Philip, Lindfield.
For more information on Vergola, visit www.vergolansw.com.au today.