Intelligent floor heating systems from Devi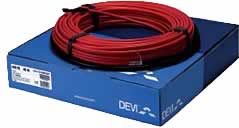 In the ancient world, the Romans, Chinese and Koreans all appreciated the effectiveness of floor heating.
In the modern world, the Danes have perfected the process, so that beautiful and practical hard floors can be warm and inviting all year long.
Devi's comprehensive range of electric heating cables, mats and electronic thermostats make it easy to design and install intelligent floor heating systems. Devi's thin heating mats comply with AS/NZS 60335.2.96:2002. All Devi products have Australian approvals.
Devi heating systems have been used around Australia since 1993.