Superdeck™ platform system from Preston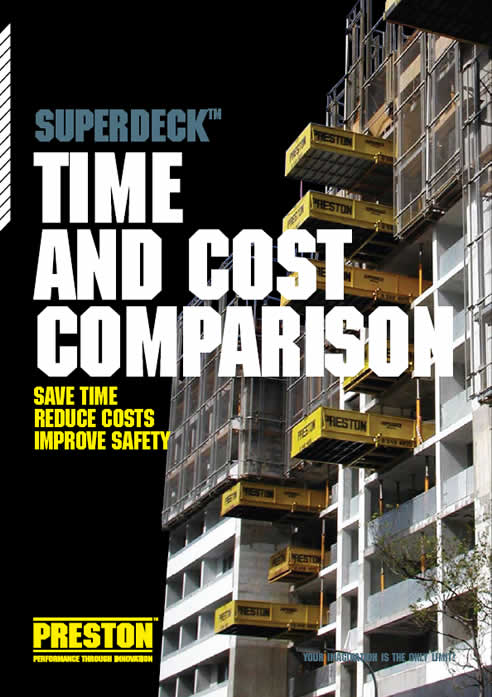 Compatibility - The Superdeck™ does not interfere with the external completion or finish of the building because the system is usually installed vertically, one above the other, providing minimal disruption to the installation of the building façade to allow closure and weatherproofing for the finishing tradespeople.
Simplicity - The platform system is simple to understand and can be installed or relocated within 15 minutes.
Adaptability - The Superdeck™ unique adaptability has been paramount in its success. It will suit almost every 'typical' situation whilst also being able to be used on a wide variety of complex or difficult installations.
The Preston Superdeck™ has long been the preferred loading platform system used worldwide in multi-storey construction because it saves time, reduces costs, and improves safety.
Value & Safety Proposition
The crane is one of the most important and expensive pieces of hire equipment on a construction site. The Superdeck™ increases crane efficiency, saving a minimum of approx. one (1) hour of crane time or *$375.00 per day.
Crane Rental Costs (incl. setup, crew & running costs) approx. $3000.00 per day. *Total = $3000.00 per day or $375.00 per hour (8 hour day). Therefore if the Superdeck™ system can save a minimum of one (1) hour per day = $375.00 per day x 6 days x 30 weeks project = $67500.00 costs saving or improved productivity.
The potential of saving $67500.00 on one project will cover the costs of five (5) x Superdeck™ units @ $500.00 per week for approx. 6 months. The Superdeck™ costs $500.00 per week, which produces five (5) times its cost in potential savings. The Superdeck™ System is proven to also save costs through;
Less crane time and supervision.
Quicker installation & relocation - Approx. 15 min compared to over one (1) hour for conventional platforms.
The load reactions are distributed vertically as the Superdeck™ System is an integral part of the building which creates one self-supporting structure. Each floor supports the other floors.
Minimised crane movement as materials are delivered to one point on the building - One crane 'mark/point'.
Improved labour efficiencies for crane crew and riggers (ironworkers).
Safer loading & unloading of materials.
Logistics improvements as materials are transferred directly from the truck to the Superdeck™. Trucks spend less time at the construction site resulting in less congestion.
Faster material movement and easier rubbish removal from floors.
Value Add - The hoist becomes available for the transportation of men and tools instead of being tied up for materials. Waiting time for tradespeople is reduced to a minimum.
The platforms vary in size from 2.2m, 3.2m and 4.2m wide allowing a wide range of bulky materials to be deposited safely. Prior to the introduction of the platforms, materials were swung by the crane operator into the building. The Superdeck™ platform extends 4.5m out from the side of the building to ensure easy crane access. The platform can be extended or retracted by one person and is rated for a universally distributed safe working load (SWL) of 5 tonnes.
Levelling ramps are made flush with the floor giving easy access to trolleys and pallet trucks. The Superdeck™ has an 8mm floor plate that does not buckle under heavy load. The platforms are made from steel and have a lifespan of over 15 years. They require low maintenance, (cleaning and painting) even after extended periods of use at a construction site. The average 5 storey building requires five units whilst larger 50 storey buildings may need between 15 and 30 decks.