Concrete x-ray and scanning basics with ScanMan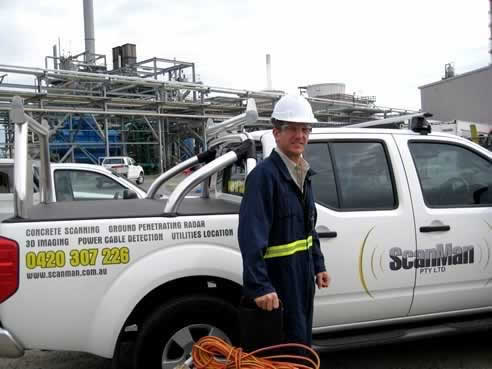 Concrete X-ray and Scanning is an accurate and non-destructive method used for detecting and investigating the composition of solid objects. The objects can be natural objects, stones, earth or man-made objects like bricks & concrete. It is an efficient method and the results can be seen immediately. However, Concrete X-ray requires radiation.
Scanning is generally used to identify metallic and non-metallic pipes, sewers, cables, cable ducts, foundations, concretes and other buried objects. It is also used to detect the depth and composition of layers of strata. Another common use of it is to investigate areas of land where excavation will be done.
Before initiating concrete X-ray a site visit by the X-ray Company should be undertaken. They identify the locations (generally several) where the X-ray will be done. Using a location tool the x-ray location is verified on the bottom. This is done to place the film at the best location. For protection of the people around radiation barriers are used. X-rays are taken of each location that has been identified during the walk-through of the site. The film is then processed in the darkroom. Finally, the layout or findings are out after processing of the film.
It is always recommended that while the X-ray is being conducted a representative of the company requiring the X-ray to be present at the site. This is because the technicians at the site might need some information on the site or any related information.
Since Concrete X-ray uses radio-active materials certain precautions are a must.
On the ground-level remove all animals, people and undeveloped film to a safe distance from the core location laterally in all direction. Generally 40 feet is considered a safe distance. This is done to maintain a safe work area.
Under the ground-level where x-ray is being done remove all people, animals and undeveloped films to a distance of at least 30 feet away laterally (in all direction) from the core area. This is required for maintaining a safe area underground.
Enquire on the kind of radiation being used by the X-ray company as some radiations are very harmful.
Ensure safe boundaries are earmarked before initiating X-ray process.
Currently several new technologies are providing better results with Ground Penetrating Radar and X-ray. Scan Man keeps up to date with the latest to ensure your results.