Compact SuperCrane 1033 from Preston Hire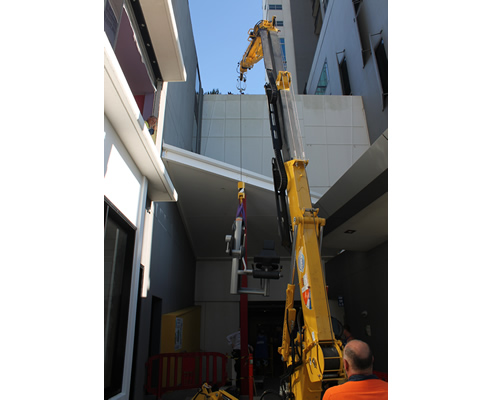 Preston Hire SuperCrane™ 1033 Palazzo Vercace, Gold Coast Queensland
Preston Hire was approached by Hitec Glazing as they were looking for the best option to replace the ceiling glass in the Sun Lounge area of the hotel foyer and removing equipment.
By utilising the SuperCrane™ 1033 with a smaller foot print and the ability to stand closer to the vertical structure helped throughout the entirely out of the building, removing both glass and gym equipment.
With other related equipment there would the procedures would have been more difficult whereby the stand of the machine would be further away from the vertical structure and have out rigger supports through open doors. The compact size of the SuperCrane™ 1033 allowed to traverse through the foyer, around surroundings, through the poolside bar and restaurant and out onto the balcony.
The Preston Hire SuperCrane™ is an innovative new concept mini crawler crane. With a width of 750mm coupled with 0.995t lifting capacity at 1m makes it easier to perform many tasks such as; glass handling, maintenance inside factories, petrochemical industry and housing construction.