Folding Security Doors for Bay Audio from Trellis Door Co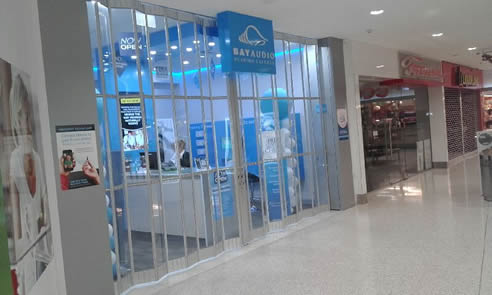 The Australian Trellis Door Company (ATDC) is pleased to be nominated as the exclusive folding door supplier for Bay Audio's national store rollout.
Bay Audio is a leading independent Australian company with 48 retail outlets specializing in hearing technology and is currently undergoing a major national store rollout including 22 new stores in 2017.
Specifying architects on the rollout are AHB Architects Pty Ltd whilst the national project managers and fitout company are Kingdom Projects.
ATDC's folding doors are amongst the most user friendly on the market - they are of aluminium construction, suspended from a heavy duty extruded top track and operate through a series of interlocking heavy duty hinges and rollers which result in the effortless motion of the curtain which folds to the side and stacks neatly and compactly into the storage area.All complemented by a series of seamless up/down locking mechanisms which allow for easy lockup without the need for any cumbersome removeable mullions. www.trellisdoors.com.au/products/commercial-security/folding-doors-and-shop-doors
Available in in either a wide body (300mm) or slimline (150mm) panel, ATDC's folding doors have numerous infill mesh options such as polycarbonate, aluminium, toughened glass, aluminium vertical rods or perforated mesh. Finishes are either a high quality premium matt natural anodised look or a wide range of powdercoated options from the Dulux range.