Rail Boom Lift SuperElevate RR14EVO3 for Hire from Preston Hire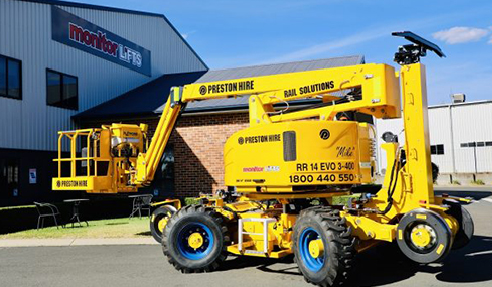 Preston Hire's commitment to providing specialised hire equipment now extends to the rail industry with the addition of the SuperElevate RR14EVO3 to their already impressive fleet.
Launching their new equipment at the RTAA Rail Industry Field Day in early April, Preston Hire is proud to now offer their services to clients within the Rail sector. Group Managing Director, Markus Preston, commented; "We are continually seeking ways we can further assist our customers by identifying equipment that will make their projects easier to complete. The increasing demand to relieve pressure from major cities sees a renewed focus on rail infrastructure and we want Preston Hire to be there helping these projects come to life and be completed efficiently, safely and at a high quality."
With more than 5 business cases for major rail infrastructure projects nationwide - most focusing on South East Queensland - combined with the Morrison government pledging $40million to invigorate regional areas and alleviate major city population strain, Australia's rail network is likely to see major works and quality equipment required quickly. Preston Hire will be there to help.
Known as the best performing machine of its type, the SuperElevate RR14EVO3 delivers exceptional performance for both rail and road applications.
Chosen for its unique self-levelling turret, this feature ensures the booms and basket are kept level even when driving along sloping ground or rail. This inventive design allows the SuperElevate RR14EVO3 to have a greater outreach and bigger basket capacity whilst also providing a more comfortable platform for up to two operators plus tools and materials.
Essentially this model delivers form and function.
Safety is at the core of what Preston Hire do with the SuperElevate RR14EVO3 design delivering on their high safety expectations. Each machine includes failsafe brakes, outreach and load control systems plus a back-up diesel engine for emergency retrieval.
Not only safe but also highly efficient, Preston commented that; "One of the stand-out features that caught our attention is the tri-gauge model. This speciality allows the machine to adapt to any of the three different gauges of rail systems within Australia making it incredibly efficient and adaptable on the job. A big thumbs up from us. We look forward to keeping you on track!"
Preston Hire has branches in all states of Australia with knowledgeable and professional staff eager to do business with you.
Contact Preston Hire or visit www.prestonhire.com.au for more information.
For full specifications and product details of the RR14EVO3, click here.