Quality Roman Blinds for Optimum Interior Comfort from Blinds by Peter Meyer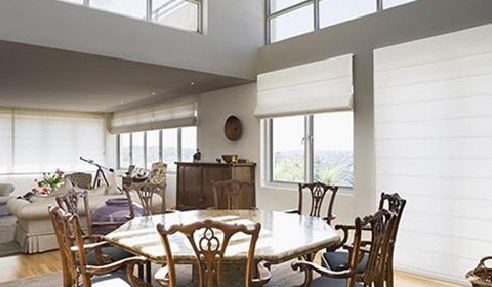 By improving blinds, awnings, and fabric ranges for the design industry, the most trendy, advanced, and integrated blind system is now available for architects and designers - the quality Roman Blinds from Blinds by Peter Meyer.
With over 30 years of providing the highest standard of products and services, Blinds by Peter Meyer have cemented their position as the lead manufacturer and supplier of quality Roman blinds in Australia. The NSW-based company selects the latest and the most stunning fabrics for clients, ensuring that their Roman blinds are beyond client expectation.
The Roman blind is a perfect synergy of aesthetics and functionality for optimum interior comfort and convenience. It exudes a unique kind of elegance through its distinct self-pelmet design. Roman Binds can be supplied with timber battens upon request for that ever-popular design feature. Blinds by Peter Meyer offers these timber battens in a range of standard stained or painted finishes as well as custom painted options also being available for the complete customisable Roman blind. For a more seamless and sleeker decor, aluminium back battens are also available.
The blinds are available in a maximum screen size of 3160mm and blockout of 2960mm with wider width available by turning the fabric. Conventional style folds are available with a 40mm headrail; 20mm and 70mm headrails upon request. The base finish is either exposed or enclosed.
Blinds by Peter Meyer designed their Roman blinds to cater for sunscreens, sheers, translucents, and blockouts, each offering insulation benefits and privacy depending on the chosen fabric. To suit almost any architectural need, designers are free to choose from the premier Signature Collection V3.0 or cost-saving Basics Range. Most of the fabrics are flame retardant to Australian Standards.
For optimum interior comfort and convenience, the quality Roman blinds are powered by Somfy Motorisation, the finest quality cutting edge technology in Australia. With choice from a range of controllers and switches, one can conveniently control the amount of heat and light entering the house, which in turn allows for optimum interior comfort to be maintained even when away. Quiet, sophisticated, and discreet, motorisation ensures a longer lifespan value while it impresses guests at the same time.
Contact Blinds by Peter Meyer or visit www.petermeyerblinds.com.au to find out more about Quality Roman Blinds for Optimum Interior Comfort today.