Why Choose Solare Teknica Outdoor Roller Blinds from Blinds by Peter Meyer?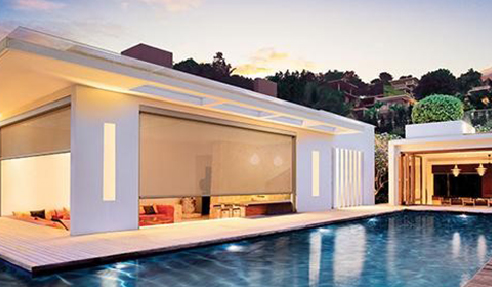 Outdoor roller blinds positively affect the overall aesthetic value of a facade. Not only do they create a wonderful impression but they also provide optimum protection against sun glare or wind gusts and allow for a perfect outdoor living space for residential or commercial properties.
Critically acclaimed as the blind and awning experts in Australia, Blinds by Peter Meyer has a comprehensive collection of Solare Teknica Outdoor Roller Blinds, featuring the latest designs and styles. Each awning features a unique profile but able to suit a number of applications.
Begin customising your outdoor roller blind installation with choice from these four awnings:
T1000 Straight Drop
Straight Drop provides a sleek, simple design for a modern aesthetic, and a perfect match for traditional window frames. Ideally installed on balconies where it is easy to strap the blind to the railings or fastened to loops attached to the ground.
Teknica 2000 Cable Guide Straight Drop
When it comes to privacy and ventilation, Teknica 2000 Cable Guide Straight Drop is the ideal choice. Installed with or without a headbox plus the finest stainless steel cable guides, it allows for full control of the blind and free from blowing in the breeze. It also features an optional locking bolt, making it a very versatile product.
Teknica 4000 Deep Side Channel
Provides complete privacy, eliminating any visible light gaps as the fabric is held deep within the side channels. The headbox and deep side channels come in Standard, enhanced with multiple locks. Blinds by Peter Meyer recommends the installation of locking bolts to secure the product to any desired spaces.
T5000 Side Retention
Also called the Side Retention System, it can completely cover the outside area, eliminating any chance for dust and dirt to enter. The fabric used is tensioned through a floating channel, installed within the special two-piece side channel. It prevents fabric from "blowouts" or light gaps.
Contact Blinds by Peter Meyer or visit www.petermeyerblinds.com.au to find out more about the Solare Teknica Outdoor Roller Blinds today.