Secure Closure Doors for Guzman y Gomez from Trellis Door Co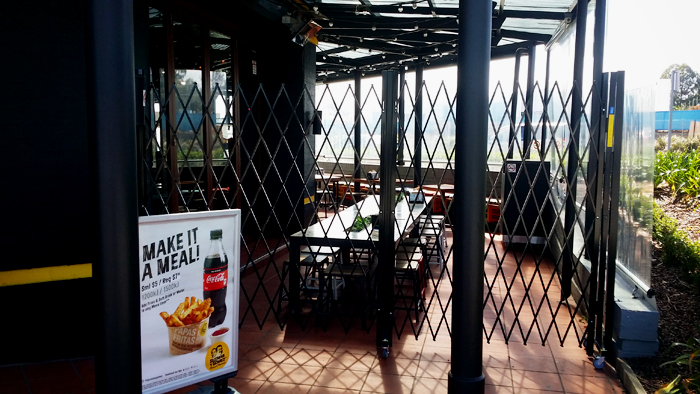 The Australian Trellis Door Company (ATDC)'s impressive market penetration now includes installing its unique shop closure doors at numerous Guzman y Gomez (Guzman) restaurants.
Guzman is an Australian licensed franchise business with over 100 restaurants specialising in Mexican food. It operates throughout Australia, Singapore, and Japan, having opened their first Australian store in Newtown, Sydney in 2006 plus their first in Singapore as recently as 2013.
The photos show a recent installation at Guzman's Wetherill Park restaurant in Sydney. In this particular application the shop closure doors are installed to protect the outdoor seating area of the premises. ATDC provided a cost effective solution by installing door closures that are completely trackless and requiring no expensive overhead structure to support the installation.
Installed at a height of 2520mm, the closures are lockable, completely mobile, and stored back of house so as not to impede trade during business hours.
ATDC's closures are sold throughout Australia and are widely exported throughout Southeast Asia.
For further information on ATDC's shop closure doors please contact ATDC toll free from anywhere in Australia or visit ATDC's website at www.trellisdoors.com.au.