Bang and Olufsen secured by The Australian Trellis Door Company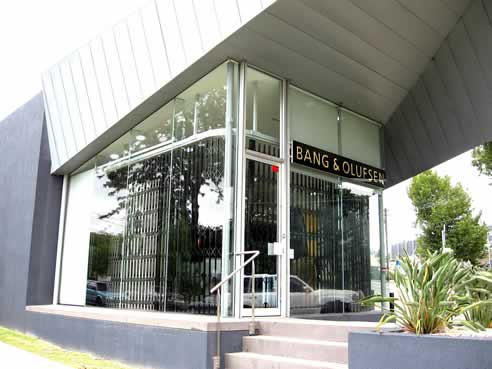 The Australian Trellis Door Company (ATDC) recently successfully completed a difficult trellis security door installation at Bang & Olufsen (B & O) Willoughby.
After repeated break-ins B & O entrusted ATDC with securing its store.
The installation was difficult given the fact the shop has floor to ceiling curved glass with no structural fittings to support any security installation. Furthermore, the installation could not compromise B & O's shopfront displays.
Working out of hours over a weekend so as not to obstruct trade ATDC opened the existing ceiling, installed curved structural support sections, closed the ceiling and made good, then installed the SO8 quality curved trellis security door.
Brooke Luinstra B & O Showroom Manager was very pleased with the result. She said that:
Being a highly desirable brand they were continually being broken into.
ATDC have done trellis doors for our other showrooms and the quality has always been superior to others on the market.
The results have been immediate - it is the first time the store has not been broken into over Christmas.
ATDC showed a high level of skill, competence and innovation at all times in resolving the complexities of this job. I would definitely use them again and would recommend them to others.
The S08 Curved Trellis Door is also suitable for securing curved counter tops and reception areas, curved shopfronts, eateries, dining areas and bay windows. The S08 can be top hung (load bearing) or bottom hung and can be made up to a height of 4 metres and a tight radius of up to 400mm. Available in a black - white or cream powder coated finish.
Contact The Australian Trellis Door Company on 02 9519 0844 for further information or for a free consultation anywhere in Australia by one of our qualified sales representatives. Please visit our website at www.trellisdoors.com.