Concrete column forming with EzyTube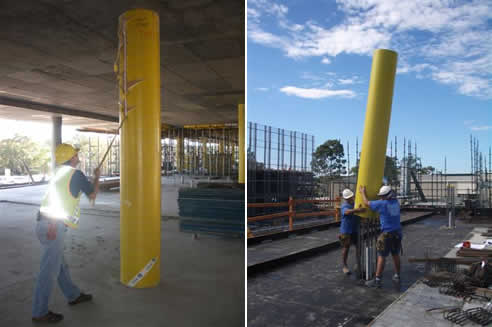 Ezytube wishes to introduce to the Australian Construction market, the launch of a new range of Innovative Tube products that make Concrete Column Forming simple. This launch will commence initially at Designbuild at Darling Harbour at stand M22 between 21st to 23rd May 2009.
Our products shall be explained in live demonstrations at the "Applications in Action Area" on Thursday 21st May at 1.00pm, and Friday 22nd May at 3.00pm. The new Ezytube Product range comprises spiral and plastic lined round tubes for columns and piers; a full range of square and rectangular tube forms (site re-usable and single use forms); Oval, hexagonal or custom shaped forms; multiple forms with internal expansion joints. We can make almost any imaginable shaped off form concrete column to suit your needs.
Ezytube has embarked upon a multi million R&D program over the past 6 years, with the aim of developing world's first, leading edge, Australian made concrete column formwork systems. The construction market is constantly changing with its demands for improved safety, faster construction cycles, greater versatility, and improved environmental benefits.
Our aims were simple, to offer our customers faster, safer, easier column forms that are also cheaper than the alternatives, and which also have high level of recycling for raw materials and waste products. The Ezytube product ensures significant benefits to the users (form workers), builders, designers and developers.