Ferretti Designer Interiors Bonethane™ splashbacks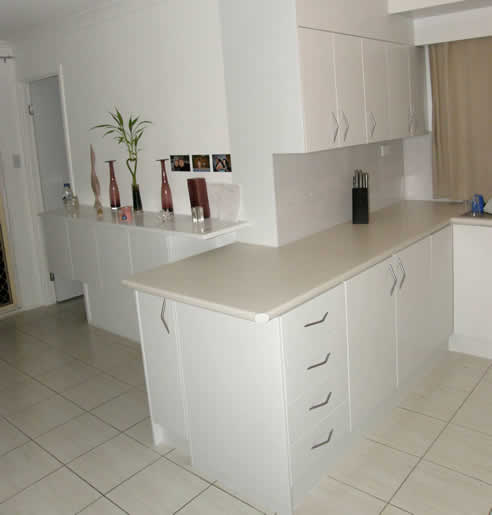 Introducing our illuminating designs, Bonethane™, made of a solid hardened plastic and coating formula, crafted and customised modeling strength, texture & colour spectrums beyond belief!
Incorporate the bench top and splashback to uniform an elegant sophisticated up-market look for a fraction of the price. Go one step further and match your kitchen doors to radiate the effect.
Bonethane™ can also be applied to doors, walls, external shopfronts, gymnasium change rooms, specifically for those wet areas, devoting style and gloss levels that stand out with distinction.
Unlike the glass splash back, with Bonethane™ you can have a customised finish to meet your spice and individuality. There are thousands of illuminating colours and combinations to suit your style and essence. We secure a 7 year warranty against ordinary conditions.
Bonethane™ product is light flexible and will not crack during handling. Bonethane™ can be cut down on site including power points and innovative angles which bring style to any home or commercial environment moments before installation which does not warrant extra cost. A variety of test methods have been carried out on Bonethane, due to harsh conditions experienced in a kitchen, domestic, commercial and outdoor environment, ie: humidity, heat and cold to name the foremost contributors of climatic weathering in these surroundings. Environmentally friendly recyclable in raw form, uses less energy than glass to manufacture. Scratches can be buffed out using same application as you would a vehicle. Bonethane is versatile and a friendly product with an easy to care for surface. High Heat distortion 120°C. Bonethane stands out as an excellent choice for metal and glass replacement for service temperatures that do not exceed 120°C (maintain distance specification).
Of course, with the like of most finishes the use of abrasive tools and cleaners is not recommended. Warm soapy water will do the task, maintaining beauty and appearance. Bonethane™ is quite robust and will perform extremely well providing the above is maintained.