Emergency Lighting Monitoring and Testing MasterMinder by Famco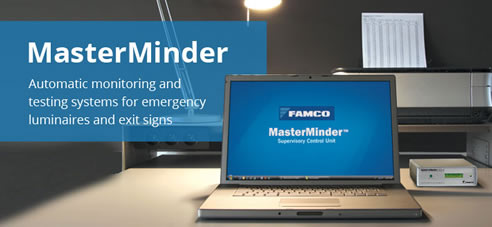 MasterMinder emergency monitoring and
testing system for luminaires and exit signs
Why
All public and large buildings require the installation of approved emergency lighting equipment. Moreover Australian and New Zealand Standard AS/NZS2293 stipulates that the equipment be tested regularly, batteries fully discharged, all units maintained in operating condition and a record kept of all tests.
How
Using advanced computer technology the Famco MasterMinder™ emergency monitoring and testing system performs all of the above functions. Each MasterMinder™ emergency luminaire incorporates state of the art electronics to test, monitor and report on the critical functions of the luminaire. Testing is initiated from a Supervising Control Unit (SCU). Test results and faults are reported back to the Supervising Control Unit (SCU) and computer.
The MasterMinder emergency monitoring and testing system advises the user of the state of the installation continuously (FMM system) or on demand, in MLC systems.
Both the MasterMinder™ systems use a very high quality dual rate charging system which prolongs battery life and its function is reported after each test.
The test or fault reports indicate the nature of any problems thus obviating unnecessary replacement of parts or units.
Eliminates manual discharging which is laborious, costly and often neglected.
The MasterMinder™ facilitates the regular discharge of the batteries thus prolonging their life.
Its unique reporting on the battery voltage, both at the beginning and end of each test gives a complete guide to the performance of the rechargeable battery.
Unit numbering is done with a handheld infrared programmer after installation.

03 9935 7300
Unit 16,The Glassworks, 23-25 Gipps St, Collingwood, VIC, 3066