Wet & Dry Crane Hire - Holdsy's April Hire Hero from Preston Hire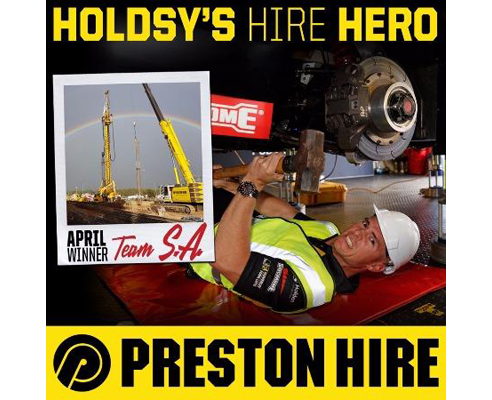 Holdsy's Hire Hero - April Winner
The APRIL Holdsy's Hire Hero of the Month Award goes to the South Australia team of Preston Hire! Each month we look for teams who showcase the Preston Hire values and help clients achieve their goals.
This month we found the pot of gold at the end of the rainbow! The PRESTON HIRE SuperCrane 673 was captured working hard for Keller Group at their Gateway South Project in Darlington, SA. You quite literally lit up the skies with this one guys!
PRESTON HIRE has an impressive range of specialized cranes available for both wet and dry hire. Contact your local branch for further information or enquiries.
Call 1800 440 550 or visit www.prestonhire.com.au.