Preston Hire Wins Rental Company of the Year 2017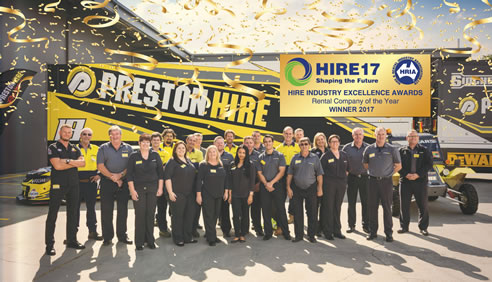 Preston Hire has taken home top honours at this year's Hire Industry Excellence Awards (HIEA) as Rental Company of the Year 2017.
The award was presented in front of 300 industry peers and proudly accepted by Preston Hire's Director, Markus Preston and Group General Manager, David Serg at the HIEA and gala dinner on Thursday, 11 May.
"Preston Hire is proud to accept this prestigious Australian hire industry award, hosted by the Hire and Rental Industry Association of Australia (HRIA). As a second time entrant to the HIEA, we felt it was the perfect opportunity to showcase our new product categories and our increase in fleet as well as to highlight our involvement in our local communities and sponsorship programs for current and upcoming sport talent," Markus Preston said.
"We wanted to tell our story because we are very proud of our business milestones not just in products and service, but also our people which are what makes Preston Hire what it is today. Being announced Rental Company of the Year definitely reflects all our staffs' hard work and I couldn't be prouder of our teams' achievement," Mr Preston said.
"Just by entering we feel we have gained an enormous advantage in learning more about our operation and business. I truly believe this is the greatest gift in winning this award. The awards entry process definitely helped us to see our strengths and weaknesses more clearly and identify potential opportunities for improvement in our day-to-day operation.
"Preston Hire is proud to be an award-winning, specialised, hire equipment solutions company. The future looks bright."
For more information about the HRIA and the Hire Industry Excellence Awards visit: https://www.hireandrental.com.au/whats-on/awards