Choosing Smart Programmable Thermostats for the Right Application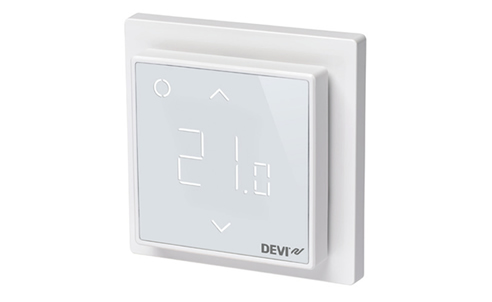 An efficient floor heating system calls for the right thermostat. One that will provide users with control over the heating in specific rooms throughout the home to meet all of their expectations. Devex Systems offer a comprehensive range of thermostats catering to all kinds of applications. All thermostats have the same aim of providing temperature control, but generally, there are two types: programmable and non-programmable.
Non-Programmable vs. Smart Programmable Thermostats
Non-programmable thermostats are basic in features and functionality. The benefit of a non-programmable thermostat is its high energy efficiency on account of thermal mass. The more thermal mass utilised, the slower the response time of the system, along with how far the heating pipes and cables are away from the surface. In addition, non-programmable thermostats are cheaper and consume less electricity, proving to be the economical choice. Advanced functionalities are not always needed, especially if heaters are sufficient to meet the heating demands of a household. Non-programmable thermostats are highly recommended for Home Automation Systems and central heating system installations, utilising hydronic floor heating.
As expected, programmable thermostats feature innovative and intelligent modern technology. These devices are very quick to respond, enabling users to program the heating setup as suited to their lifestyle. This means that the system can automatically switch the heat on and off as per the set program. Programmable thermostats are highly recommended for installation throughout all room in the home. A benefit of having a programmable thermostat in your bathroom is that it allows the floor to be warm before you use the space and turns itself off, thus reducing your electricity usage and you never need to worry about leaving it on.